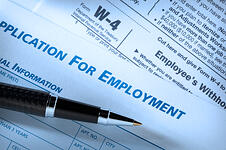 Last month we addressed the updates to WOTC credits, including updated guidance and new Forms 8850. Now we overview additional information about filing for WOTC credits and the latest WOTC news.
In this post:
What Is Form 8850 For?
The When, How, and Who of Completing Form 8850
Filing the Form 8850
Next Steps: Guess What? You Get to Fill Out MORE Forms After 8850
Next Steps: Recordkeeping- Don't Route to Your Circular File for 3-4 Years
What's New / Additional Updates to WOTC
What Groups Qualify for WOTC Besides Veterans?
What is Form 8850 For?
Employers use Form 8850 (Spanish version here) to pre-screen applicants for WOTC credit qualification. Form 8850 is submitted to the state workforce agency (note: Do NOT send 8850 to the IRS!), which then certifies or rejects the applicant as a member of a WOTC-targeted group.
The When, How, and Who of Completing Form 8850
WOTC credits need to be considered as part of the hiring process. Form 8850 is to be completed no later than the day the job offer is made. Your application process should include questions that will adequately screen ALL candidates for WOTC's target groups, and which will help populate data on the Form 8850. Based on that information, you (the employer) complete the remainder of the form on or before the day the job offer is made. Then, both the applicant and yourself (the employer) must sign the Form 8850 no later than the date for submitting the form to the state workforce agency (generally no later than the 28th day after the applicant begins work, excepting veterans who begin work between 11/21/11 and 5/22/12, in which case the submission deadline is 6/19/12).
Filing the Form 8850
Form 8850 is filed with the state workforce agency, not the IRS. You may submit via fax if your state workforce agency is equipped to accept filings via facsimile transmissions. Contact your state WOTC coordinator to inquire. Electronic filing is also permitted but also limited by whether your state workforce agency is prepared to accept such filings. As of today, the only states that are so prepared are: Alabama, Arizona, Arkansas, Colorado, Florida, Illinois, Kansas, Kentucky, Minnesota, New Jersey, Ohio, Pennsylvania, and South Carolina.
Next Steps: Even MORE Forms After 8850
After filing the 8850, you must also complete either ETA Form 9062 or ETA Form 9061 with your state WOTC coordinator. Use 9062 if the job applicant was provided the 9062 (conditional certification form) from a participating agency (such as the Job Corps), and otherwise use the 9061. Form 9061 is also available in Spanish.
Although the current forms indicate they expire January 31, 2012, in fact they are still the correct ones to use as of this writing. The ETA is revising the forms to reflect recent changes to Veteran target groups and has instructed state workforce agencies to continue accepting the current forms until further notice. Interim instructions on the ETA website instruct employers using Form 9061 to do the following:
-When using HARD COPIES of Form 9061, indicate in red at the top margin of the form the Veteran target group for which they are requesting certification.
-When using ELECTRONIC Form 9061 in those states that are fully automated, indicate in black at the top margin of the form the Veteran target group for which they are requesting certification.
That's not all! After your WOTC-qualified employee meets the minimum number of hours worked as required for the credit, you must also file an IRS Form 5884, Work Opportunity Credit (if a for-profit employer). Nonprofit employers must instead use Form 5884-C, Work Opportunity Credit for Qualified Tax-Exempt Organizations Hiring Qualified Veterans (read more about it here).
Next Steps: Recordkeeping- Don't Route to Your Circular File for 3-4 Years
You must keep copies of Forms 8850, along with any transmittal letters that you submit to your state WOTC coordinator, and certification letters you receive from your WOTC coordinator generally for 3 years from the date of any income tax filing in which you claim the WOTC credit.
What's New / Additional Updates to WOTC
We've previously covered the updates regarding expanded veteran's credit and availability of WOTC now to nonprofit employers. Additional updates to WOTC include:
-Hurricane Katrina targeted group expired for those hired after 8/27/09.
-Unemployed veteran and disconnected youth targeted groups expired for those hired after 2010 (unemployed veterans are however covered under a later update).
-Empowerment zone designations were extended until the end of 2011.
-Renewal community designations expired at the end of 2009.
-As we previously reported, aside from Veterans covered under the recent VOW to Hire Heroes act, WOTC, Indian Employment, and Federal Empowerment Zone credits all expired on 12/31/11. However, it is still anticipated that these expirations will amount to only a temporary hiatus and will soon be corrected via retroactive extension. Employers are advised to continue filing Forms 8850s as normal, so as not to miss out on the credit opportunity.
What Other Groups Qualify* for WOTC Aside From Veterans?
All of these WOTC target groups must meet specific qualifying criteria as detailed in IRS Form 8850 instructions, but generally, these are the target groups:
Qualified IV-A Recipient (Family receives TANF)
Qualified Veteran (Multiple ways to qualify)
Qualified Ex-Felon
Resident of a Designated Community (lives within an empowerment zone or rural renewal county; see IRS Form 8850 Instructions for list of areas)
Vocational Rehabilitation Referral
Summer Youth Employee
SNAP/Food Stamps Recipient
SSI Recipient
Long-term Family Assistance Recipient (again, relates to TANF)
* Some or all of the groups listed above may become eligible for WOTC subject to program renewal / recertification. Read more here.

Find out how much WOTC can save you with our free, no-obligation consult offer.
Disclaimer: This article is general in nature and is not intended to replace the guidance of an employment tax expert and/or legal professional with regards to an appropriate course of action in your particular circumstances. Please consult with a professional for appropriate advice in your case. Pursuant to IRS "Circular 230" rules, any information included herewithin is not intended or written to be used for the purpose of avoiding penalties under the federal Internal Revenue Code.